There are two types of access to ImmiAccount. First one is the individual in which you can create an individual ImmiAccount if you are an individual applicant, a family member acting on behalf of an applicant, a friend helping with the application process.
Second is the organization. In this you can create an organization ImmiAccount if you are from an organization, a registered migration agent or from a sponsoring company.
In the first step, enter your user details. Select 'Individual'. Enter your family name, given name, telephone number, mobile telephone number (optional), email address (twice to confirm), select 'Continue'.
If we talk about the step 2 in this you have to enter your account details enter your username or keep it as your email address, enter your password, choose your secret questions from the list, enter your answers to the secret questions, remember your exact answers, they are also case sensitive, set your security alerts. Select and read the 'ImmiAccount terms and conditions'.
Select the check box to accept. Select the check box for 'I am not a robot' and select 'Submit'. The 'Login successful' page will show. Select continue. Then they will send you an email.
Select the link in the email to confirm your email address and after you create your account you can straight away, by making an application, request access to organization services, access LEGEND.com etc sites.
Next comes the approval part. You do not get an organization ImmiAccount until an Organization Account Administrator (OAA) or we approve it. An OAA approves your organization ImmiAccount first when your organization has an OAA, you select 'Online Lodgement' only.
We send a reminder email to the OAA after 7 working days and we approve your organization ImmiAccount. After an OAA approves your account, or when your organization is not already in ImmiAccount, or when you select 'Visa Entitlement Verification Online (VEVO). We usually approve an organization ImmiAccount in 4 working days.
Your account will remain an 'Individual' account until we approve your access request and if you create an individual account instead of an organization account, you can request a change to your account.
To request a change to your account login to ImmiAccount and then select 'Manage Account', select 'Request access', go to 'Request additional services', select the organization online services you need, enter your organization details, select 'Submit'.
Ask for the 'online lodgement' service if you have applications in your account and if you do not ask for this service, you will lose your access to the applications when your account type changes and ImmiAccount gives you access to many of our online services.
Use this guide to see how to log in to your ImmiAccount and if you cannot access your ImmiAccount, use the 'Forgotten username or password' links or ask your Organization Account Administrator (OAA) for help before you contact us.
All usernames are unique. You cannot change or re-use your username, even if you delete the account and if you enter your username or password incorrectly five times, your account will lock for 60 minutes and you can use the 'forgotten password' link and correctly answer your secret questions to unlock your account.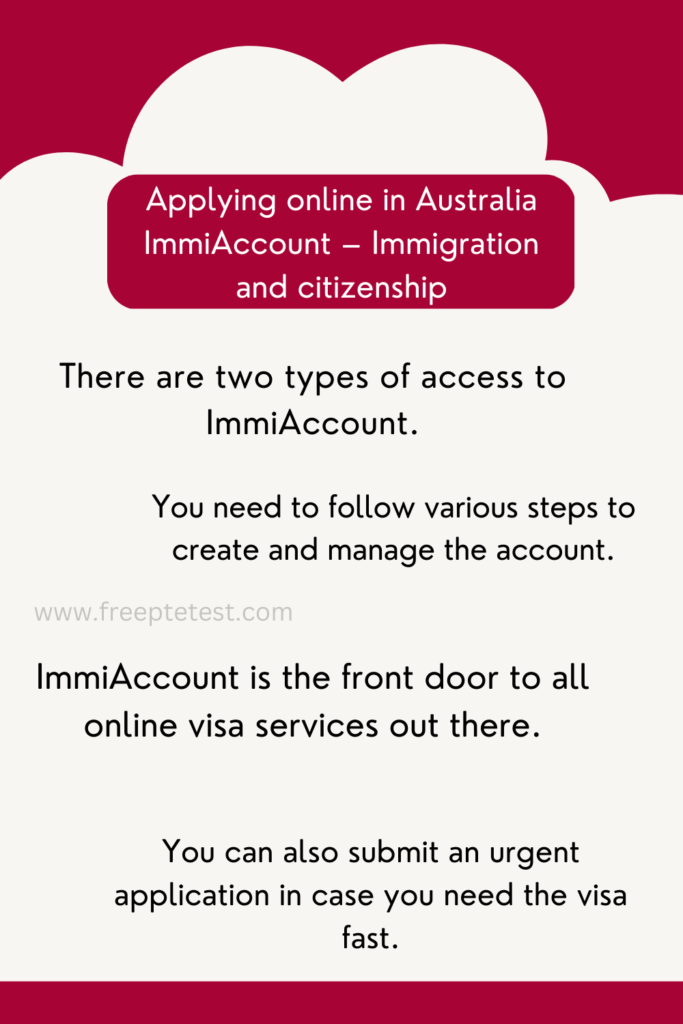 The Organization account administrator role (OAA) allows you to help other users in your organization with their access issues.
If you have Organization Account Administrator (OAA) access, you can approve access for new users within your organization, invite staff to create an account, reset passwords, suspend accounts that are not in use, and remove accounts from the organization. To use the OAA functions login to ImmiAccount, select 'Manage Account', select 'Organization Account Administration.
ImmiAccount allows you to start a new application, continue a saved application, Import an application, share an application with another account, send an incomplete application to another account, remove an application.
What is ImmiAccount?
ImmiAccount is the front door to all online visa services, connecting you to My health declarations, visa finder, visa entitlement verification online etc.
How to contact Australia for a visa?
You can find it online at the Australian Government Department of Home Affairs website.
How to speed up an Australian visa?
You may be able to request priority processing for some types of visas.
Conclusion:
There are two types of access to ImmiAccount.
You need to follow various steps to create and manage the account.
ImmiAccount is the front door to all online visa services out there.
You can also submit an urgent application in case you need the visa fast.
Check out our Web Story at https://freeptetest.com/web-stories/applying-online-in-australia-immiaccount-immigration-and-citizenship/