Visa Pathways to Australian PR after your Student Visa: Almost half a million foreign students come to Australia every year to go to college or university. Australia is one of the most popular places to move to, and it is also a famous place for students from all over the world.
We will tell everyone who wants to move to Australia to study how to get a permanent resident visa in Australia with a student visa. After going to Australia to study, some students decide to stay there and apply for a Permanent Residence Visa.
It's important to think about a course of study's future possibilities and chances of getting a PR before choosing it. Besides the school, there are other things you should think about as well.
Age of applicant
Educational qualification
Language skills in English
Experience at work
Partner's skills (wherever applicable)
With a strong economy, people in Australia look for work after finishing their studies. People who want to work in Australia as a permanent resident (PR) can choose from a number of ways to get there. Post-Study Work Visa, Employer Nomination Scheme, and Skilled Migration are the three most common ways.
Permanent Resident (PR)
A person who lives in Australia for good has the same rights as an Australian citizen. A citizen can enter or leave the country whenever he wants. However, if a PR citizen wants to travel abroad, he needs a permanent visa and a legal travel authorization.
Permanent residents in Australia are people who live there and have a PR card, but are not citizens of Australia. Permanent residents can become citizens of Australia after a certain amount of time.
How do I become a permanent resident?
After they graduate, a lot of foreign students try to get permanent residency. In order to do this, they must "express interest" through the SkillSelect migration program of the Department of Immigration and Border Protection.
It is a website run by the Australian government where students can send an Expression of Interest to apply for a skilled visa. (EOI). For this, candidates need to give information about themselves, their work history, the job they want, and how well they speak English. Aside from this, they must also give information about the skills assessment for the nominated jobs.
Most graduates try to get a Skilled Independent visa. (subclass 189). It is a point-based system for skilled workers between the ages of 18 and 49 who are not sponsored by a family member or company or chosen by a state government.
In addition to sending in an EOI, candidates need to give a review of their skills. With the Skilled Independent visa (subclass 189), a person can work and live in Australia as a permanent resident while also being able to work there.
We talk in depth about the most common visas that students use:
The Post-Study Work Visa
The Post-Study Work Visa is good for two years and lets students work without any limits. This visa is for people who have finished a two-year full-time program of study, usually a bachelor's or master's. But when they finish school, many students find out that they are not qualified for permanent residency.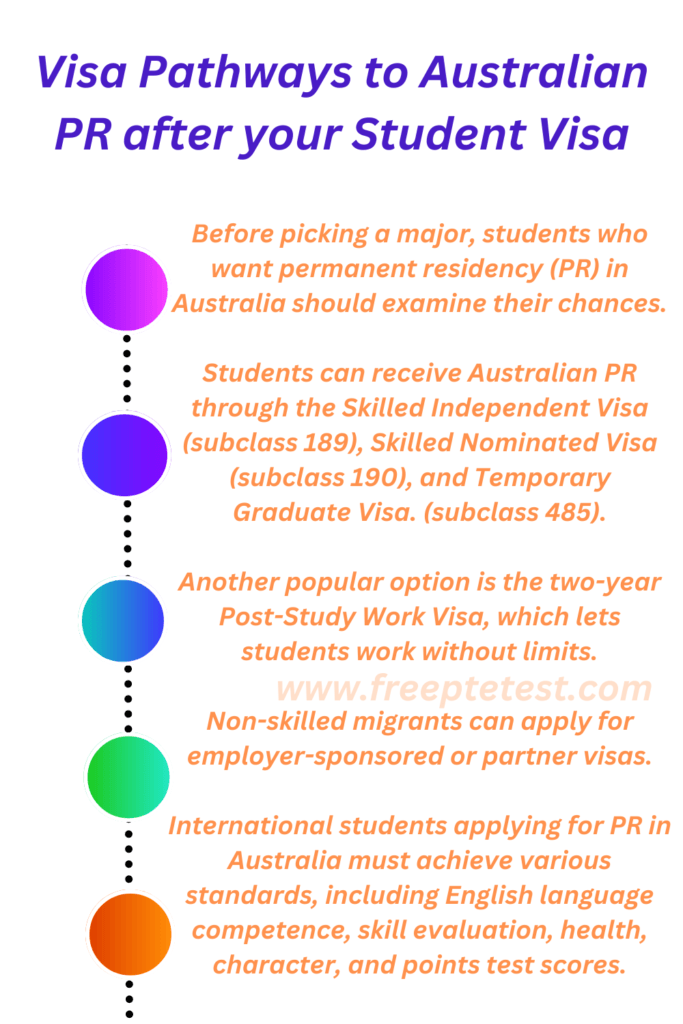 Either they don't have a sponsoring company or they don't have enough points for skilled migration. So, the Post Study Work Visa in Australia is used to meet the criteria for a lifelong visa.
Skilled Independent Visa (subclass 189)
This visa is for skilled workers who don't have a company or family member who can sponsor them. To qualify, you must pass a points test that looks at things like your age, work experience, schooling, and how well you speak English.
Skilled Nominated Visa (subclass 190)
A state or territory government can nominate skilled workers for this visa. To be qualified for the Skilled Independent Visa, you must have a skill that is in demand in that state or territory and meet the other requirements.
Temporary Graduate Visa (subclass 485)
With this visa, foreign students who have finished their studies can stay in Australia for up to four years to get work experience. During this time, if you work in a skilled job, you may be able to get the Skilled Independent or Skilled Nominated Visa.
Employer Sponsored Visas
Another common way to get a long-term visa is through an employer. Employer-sponsored visas are used by a lot of people who can't meet the standards for skilled migration.
For this visa, you must first get a temporary visa (subclass 482) and work for your sponsoring company in Australia for at least 3 years. Then, you can apply for a permanent visa. In some cases, candidates can apply straight for permanent residence (186 visa), but employers prefer the TSS 482 visa path.
Partner Visa (subclass 820/801 or 309/100)
You might be qualified for a Partner Visa if you are in a relationship with an Australian citizen or permanent resident. With this visa, you can live and work in Australia while your application for permanent residency (PR) is being processed.
Eligibility for PR in Australia
International students who want to get PR in Australia must meet certain standards. These things are:
Meeting the English language proficiency requirement: Applicants must get a certain number on an approved English language test, such as the International English Language Testing System, to show that they can speak and write in English. (IELTS).
Meeting the skill assessment requirement: Applicants must have their skills evaluated by a relevant assessing body in Australia to make sure that their job is on the relevant Skilled Occupation List. (SOL).
Meeting the health and character requirements: Applicants must have a medical test and show a police clearance certificate to show that they meet the health and character requirements for Australian immigration.
Getting enough points on the points test: To get a skilled visa, applicants must get a certain number of points on the points test. Points are given based on things like age, how well you speak English, your job, your work experience, and your schooling.
Summary:
Before picking a major, students who want permanent residency (PR) in Australia should examine their chances.
Students can receive Australian PR through the Skilled Independent Visa (subclass 189), Skilled Nominated Visa (subclass 190), and Temporary Graduate Visa. (subclass 485).
Another popular option is the two-year Post-Study Work Visa, which lets students work without limits.
Non-skilled migrants can apply for employer-sponsored or partner visas.
International students applying for PR in Australia must achieve various standards, including English language competence, skill evaluation, health, character, and points test scores.