How does the PTE English test cost?: If we talk about the PTE academic exam, is a computer-based English language test. PTE academics is the English test undertaken by students and aspirants who desire to go abroad for studying or immigrate to a major English-speaking country.
If you intend to study in a country where English is the native language, you need to have the necessary language skills. Pearson language test is one of the tests that foreign universities insist on.
Your overall English language proficiency is tested in PTE. To ensure that you can study in an international environment, it measures your English speaking, reading, writing, and listening skills.
The PTE exam fee has also been updated to 14,700 and the  candidates would be required to pay INR 14,700 for booking their PTE test.
The PTE test is powered by artificial intelligence (AI) technology and is designed to provide rapid and convenient testing solutions it was first launched in 2009 by Pearson, following a comprehensive research program.
Colleges and universities around the globe widely accept this and the test is taken by students from 180 nationalities it also stands as a testimony to your English language skills.
It enables you to gain international exposure after graduating and the conducting body has also shortened the total duration of the PTE exam from three hours to two hours.
This computer-based test focuses on day-to-day English rather than the high-level English language and the PTE results and scores are declared much more quicker.
Eligibility:
Nationality is the first thing that comes under eligibility, in which the PTE Academic exam is open to students of all nationalities. This exam may only be taken by candidates who have a valid, current, and legible identity proof document and all the documents that are required.
Second is the Age of the Candidate, in which all the students over the age of 16 years can take the exam. The age group of 16-18 years must fill out a parent consent form, it is a must.
Next is the Age Limit, in this, there is no specific lower or upper limit for students to apply for the exam except students appearing for the exam should have completed their high school education.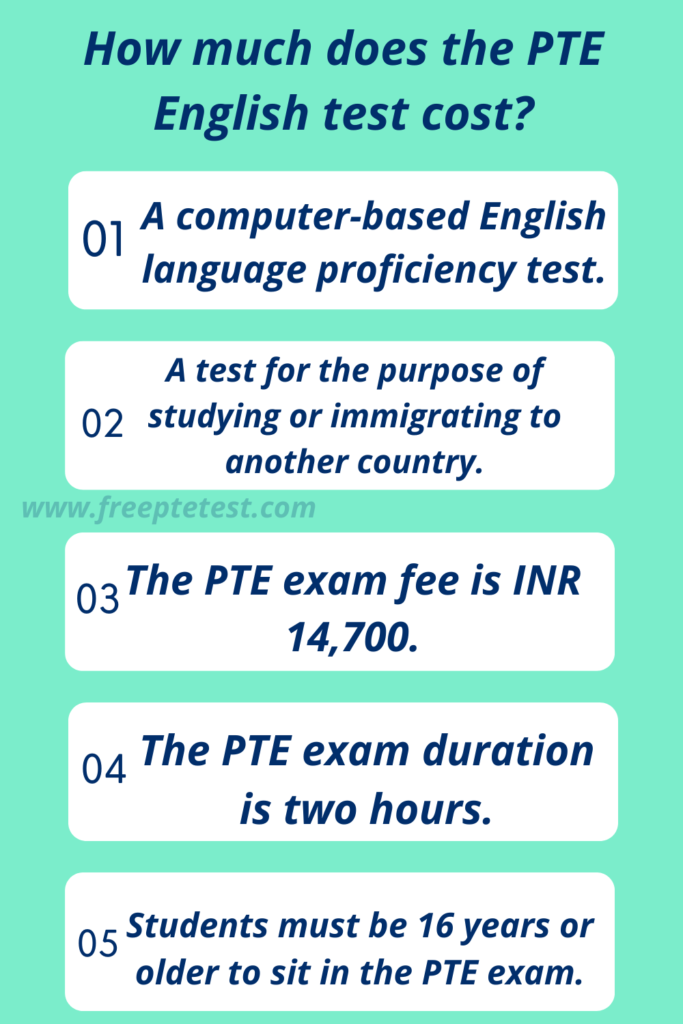 Last is the Educational Qualifications, in which one should be fluent in the English language.
Exam registration fees have to be paid by the PTE Academic test takers. Fees of Rs. 13,300/-  have to be paid by Indian students appearing for the exam.
You should book your slot at least 14 days in advance. Now there are different types of fees that are supposed to be paid by the candidates applying for the exam.
First is the optional fees, which include late fees, exam rescheduling, and cancellation fees, these are not for every candidate. Next is the rescheduling fees, in this, you can change your exam dates without incurring additional costs, but for this, you have to send a request 14 days in advance. You have to pay an additional 50% if you reschedule your appointment between 7-14 days before.
Now comes the late registration fees, in this you have to book the seats up to 48 hours in advance. Next comes the cancellation fees, in this you may cancel your appointment and claim a refund and you need to cancel at least 14 days before your test date. If you cancel the exam less than 7 days before the exam, for any refunds you will not be eligible
Score Calculation:
It is divided into two types: First is the correct/incorrect, in which you can get 1 point for every correct answer and 0 for every incorrect and there is no negative marketing. Second is the partial credit PTE exam questions are scored as correct, partially correct, or incorrect. Here you can practice for Pte Test for Free.
You will be awarded the maximum points for that section if your responses to these questions are entirely correct. You will be awarded some points from the maximum score possible if your answers are only partly correct and not entirely. You will not receive any points if your responses are incorrect.
Conclusion: Going for the PTE exam test is a great choice as it is much simpler and easier than other exams out there. Candidates from worldwide are preferring to take this exam as its fees are also affordable for everyone and its syllabus and sections are also easier.
You just need to improve your reading, writing, listening, and communication skills. Candidates from worldwide are also preferring this exam due to its low fees.