PTE is a computer-based exam that assesses your English capabilities. In PTE the entire exam format comprises four sections. It includes speaking, writing, reading, and listening.
The speaking section includes different task types. These two sections require enough practice and good technique, you should be able to master that.
The writing section consists of written Text and the second is writing essays. Students are allotted ten minutes to finish each question. For an essay, students are given twenty minutes to finish.
Reading section five tough types, we have in the reading section. We should focus on the re-order paragraphs. We should also focus on filling in the blanks because those contain the bulk of the marks. It includes multiple choice, multiple choice, re-order paragraph, reading: fill in the blanks, reading and writing: fill in the blanks.
The listening section summarizes spoken text, multiple choice, fill in the blanks, highlight correct summary, multiple choice, selects missing word, highlight incorrect words, and write from dictation.
You need to follow some steps to prepare for your exam:
Firstly you should know your target score, and you need to understand your current English proficiency level which is also important. You should know the PTE score you need to achieve.
It shows you individual scores for each of the communicative skills like listening, reading, speaking, and writing so you can see where you might need to improve your skills and can get the maximum number of marks.
Secondly, you should Know the test format. Just be familiar with the structure of PTE academics. You should know how many parts are included in the test, how many questions are going to be there, what task needs to be completed, how much time is allowed for each question, what tasks need to be completed and many more things you have to be familiar with.
The third is to understand how the test is scored.  All questions in PTE academics are 100% machine-scored, no human intervention is there. It means that every test is marked accurately, consistently, and fairly. The test taker is given a score of between 10 and 90, it all depends upon your efforts.
Skills that are tested in each question:
Questions that test communicative skills will test either an individual or a combination of skills. A question may test your just reading, or it may test reading & speak at the same time.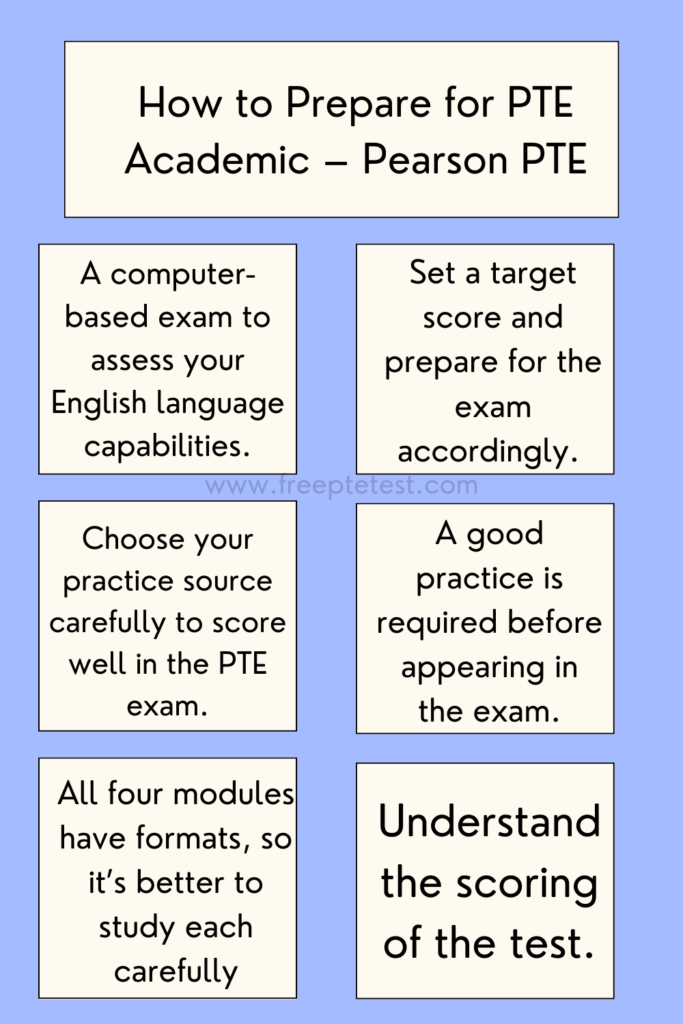 Fourth is to choose your preparation resources. For this, you should explore free PTE academic preparation material out there. You can search online. A number of websites are out there that provide free PTE study material for exam preparation.
You should practise more. Complete short, 5-10 minute practice activities each day. Should practice speaking English at your home, school or workplace. Or you join English-speaking groups. They offer the opportunity to practice both speaking and listening skills because the more you practice the more you improve.
Take every opportunity to write in English. For example, sending emails to friends or contacts. Or you should keep a journal. Or to read widely from sources like newspapers, magazines, academic journals, and books.
Students should listen to English-speaking media, like television and radio broadcasts, observe native speakers and listen to the language used in different contexts etc are some of the things you should follow.
Fifth is tips for test day. So, Before the test makes sure you have the correct documentation and ID to take with you to the test centre. Just reach early to the test centre. During the test, read all test instructions carefully.
Use correct punctuation for writing tasks: full stops, capital letters, commas, etc, these things also play a huge role in defining your result. Answer the question. Keep strictly within the word limit you are given for writing tasks; it will save you a lot of time and effort. Respond quickly and keep speaking during speaking tasks.
The microphone will close after three seconds of silence. After that, it will stop recording. Do not spend too much time on a single question as it will consume a lot of your time, try to give every question the same amount of time. Spend any remaining time available to check your answers and doubts.
There are a number of preparation resources out there which include free online courses. Free online courses help you master PTE. You should be listing local courses. You can use official coursebooks. You can do self-study. You can use an official practice app. Get a personalized study planner. You can explore a number of resources.
Conclusion:
PTE is one of the most preferred immigration tests out there. It tests your English capabilities. It is easier and simple than other tests. Only your efforts are required for the preparation of the test. Everyone should go for this test.
Check out our Web Story at https://freeptetest.com/web-stories/how-to-prepare-for-pte-academic-pearson-pte/