PTE Academic is a standardized test of English, which is used for study abroad and migration purposes. Let's have a look at Pearson Test of English in South Africa.  PTE measures whether a non-native speaker of English would be able to complete coursework in English.
The PTE Academic is trusted by institutions and by a number of industries. The test is administered worldwide. It consists of around 250 test centres. Results are made available within five weekdays. Your performance is scored on a scale from around 10 – 90, based on your score, you are accepted by various institutions.
English test results are typically available within 5 weekdays, and computer-based marking ensures all test takers are scored impartially and accurately. It is accepted by universities and colleges, which includes Australia, New Zealand, USA, UK, Canada, Ireland, Singapore, Germany and many more and approved for all Australian and New Zealand visa and migration applications. To study Abroad and Migration, candidates need to show proof of Identity. On exam day original and approved ID must be presented. While the common minimum policy is the same for all the specifications.
Features of PTE Academic:
The features include registering and paying online up to 24 hours in advance. For up to 365 test days each year globally, over 250 test centres worldwide. Single 3-hour session (optional 10-minute break).
The test comprises 3 parts: Speaking and writing, reading, listening, computer-based and 100% computer marked, results are available in five business days or less in an unlimited number of institutions for free. Results are available online, scored on a scale from 10 – 90 with extremely accurate and consistent results; a late booking fee applies for the test booked within 48 hours of test sessions etc.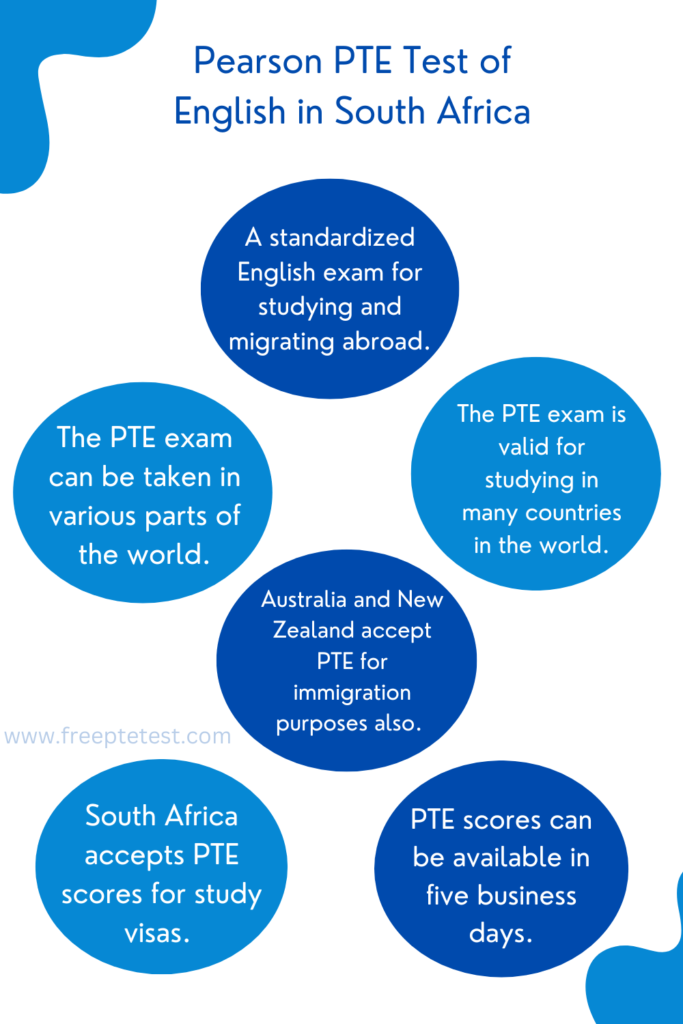 PTE Academic Test Format:
First is Part 1: Speaking & Writing- This is for around 77 – 93 minutes. It includes a personal introduction, Reading aloud, Repeating sentences, Describing images, Re-tell lectures, Answering the short question, and Summarizing written text, the essay is 20 mins.
Part 2: Reading- It is for around 32 – 41 minutes. It includes multiple-choice, choose a single answer, multiple choice, choose multiple answers, re-order paragraphs, reading: Fill in the blanks, reading & writing: Fill in the blanks.
Part 3: Listening- It is for around 45 – 57 minutes. It summarizes spoken text, multiple choice, chooses multiple answers, fills in the blanks, highlights correct summary, multiple-choice, chooses a single answer, selects a missing word, highlights incorrect words, writes from dictation.
On a 10 to the 90-point scale, PTE academic measures your performance. Institutes use your PTE score to measure your academic success. Your test score is a measure of quality. It is based on this the admission officer.
Having more scores means that more and more institutes would be ready to accept you. Systematic preparation is a must. You need to understand the test format better. To help you in preparation, Pearson PTE has a partnership with E2Language.
Steps to send PTE Academic Score to Institutions:
Firstly login to your account, and click View score reports. Click send Scores. Type the name of your chosen institution. After that click on search. Tick the box next to the institution's name. When it appears in the list. Review your details then scroll down the page and click next, repeat for each institution. You can send your score to many institutions.
IELTS or PTE for South African immigration, better understand Pearson Test of English in South Africa:
Are you comfortable with typing? You can go for either IELTS or PTE. Know which test suits you better either IELTS or PTE. If you are more comfortable writing by hand then you should opt for IELTS, it will be the best option. Do you need your results urgently?
There is a difference of a few days between traditional IELTS on the one hand, and computer-based IELTS on the other, so yes, both have their differences of a few days. The latter has a much quicker turnaround time. This is what you will have to do for PTE as it is completely computer-based.
If the thought of speaking with a non-human interlocutor bothers or concerns you then yes IELTS will probably be a better fit, are you concerned about fairness and reliability? Although anecdotal, many people report receiving a low rating for speaking in PTE, even though they have done well on other areas of the test, and are language speakers of English.
Conclusion on Pearson Test of English in South Africa:
A standardized English exam for studying and migrating abroad.
The PTE exam can be taken in various parts of the world.
The PTE exam is valid for studying in many countries in the world.
Australia and New Zealand accept PTE for immigration purposes also.
South Africa accepts PTE scores for study visas.
PTE scores can be available in five business days.
Check out our Web Story at https://freeptetest.com/web-stories/pearson-test-of-english-in-south-africa/