Tips and strategies for people taking their first PTE reading test: The PTE Academic is made to test how well you can read, write, and talk English. So, you need to make sure that your preparation includes strategies that help you gain the information and skills you need to do well on all types of this test.
Whether you were born speaking English or not, if you aren't a keen reader and know a lot about how complicated the language is, your skills may not be enough to help you get the best score. PTE Academic is a test of how well you can use the language. You should spend a lot of time improving your reading skills as part of your PTE training.
Before we talk about how to improve your PTE reading skills, let's look at how the reading part of the test is set up. This will help you plan how to study.
Exam Pattern
Subjects like humanitarian studies, natural sciences, social sciences, and general information are covered on PTE reading tests. When you study for the PTE, you should pay attention to these topics if you want to do well not just in the reading part but in all of the sections.
This section of the test takes 29–30 minutes and has five different kinds of questions.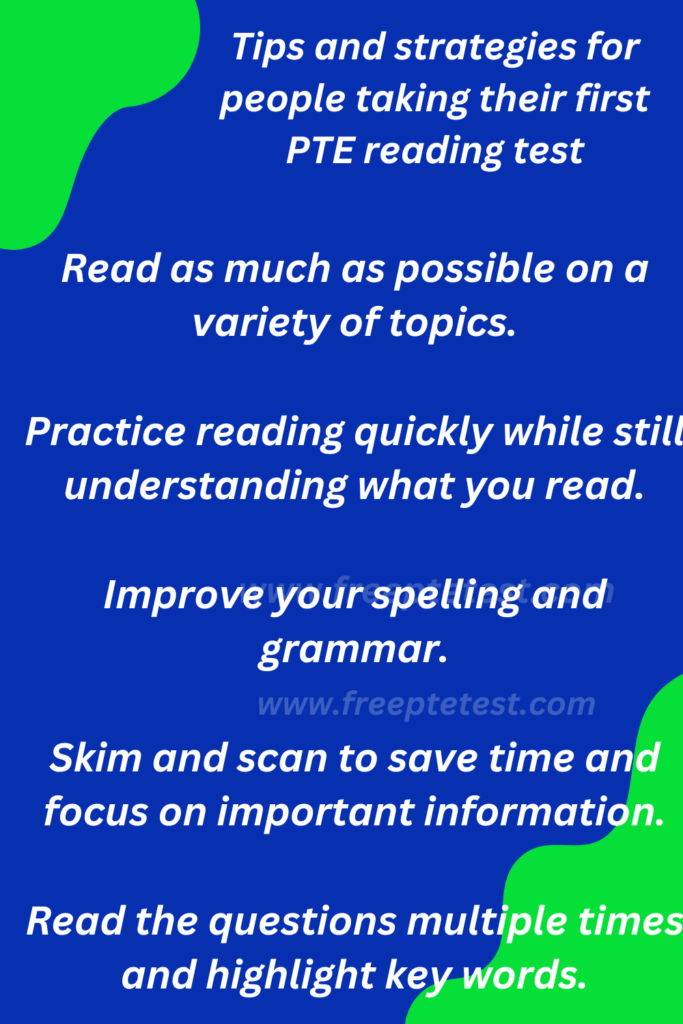 Overview of the PTE Reading:
The information about the PTE Reading is in the table below:
| | | | | | |
| --- | --- | --- | --- | --- | --- |
| Question Type | Task | No. of questions | Length | Scoring | Skills assessed |
| Reading and Writing: Fill in the blanks | You will be given a paragraph with blank spots for you to fill in. There will be a drop-down button and a list of choices next to it. Choose the right answers to finish the whole line. | 5-6 | Text up to 300 words | Partial credit scoring | Reading and Writing |
| Multiple-choice, choose multiple answers | There isn't just one answer. Pick all the right answers, in your opinion. | 1-2 | Text up to 300 words | Partial Credit Scoring | Reading |
| Reorder paragraphs | On the left side, you will see several writing boxes. Drag and drop them to the right side in the right direction. | 2 – 3 | Text up to 150 words | Partial Credit Scoring | Reading |
| Reading: Fill in the blanks | There will be gaps in the text that shows up on the screen. To fill in the blanks, choose the right word from the list. There will be more choices than holes. | 4 – 5 | Text up to 80 words | Partial Credit Scoring | Reading |
| Multiple choice, single answer | There are many possible answers, but only one is right. | 1-2 | Text up to 300 words | No score for wrong or no response | Reading |
Strategies for preparing for the PTE Academic Reading
Read anything you want: One of the best tips for PTE reading is to read as much as possible. You can read books, blogs, ideas, reviews, notes, news, studies, stories, and anything else that has to do with the subjects of the test. You can choose any theme that you like.
Try to read quickly: The PTE Academic test has a time limit. So, it is very important that you learn how to read quickly. As you start getting ready for the PTE, try to keep improving your reading speed by giving yourself a goal of reading a certain number of words in a certain amount of time.
Get your own book ready: Along with reading quickly, you should also make sure you understand what you are reading. If you come across a new word, you should look it up, learn what it means, and maybe even write it down for future use.
Improve your spelling: Speaking of reading with thought, you also need to work on your spelling. The PTE study tools from Pearson will help you learn everything about grammar, from the basics to more advanced topics. The first thing you can do is learn English language. Reading a lot will help you figure out how to use language in sentences. As you read more about it, you'll learn more about it.
Plan for Preparing for the PTE Exam
Skimming and reading quickly: Skimming and reading will save you time and help you pay attention to the most important parts of the text. This way of quick reading will give you an overview of the question and help you focus on the information that is most important to you.
Read the question over and over: Even though this test is timed, you will have enough time to read the question more than once if you use the PTE reading techniques well. This will help you find information you might not have thought to look for.
Put the words in bold: Highlight the words or phrases in the paragraph that you think will help you choose your answers. Identifying the buzzwords will save you time and keep you from going around in circles.
Elimination method: If you aren't sure of the right answer to a multiple-choice question, you can use this method to rule out the possible wrong answers. Once you get rid of those choices, you will only be left with the right one.
Tests to Take: Reading too much and without thinking will not help you learn anything. But when you use it with the practice tests, your reading skills will improve and grow. The practice tests for the PTE from Pearson will help you improve your reading skills. You can learn from their study tools and test your skills with their online tests.
These tips will help you figure out how to prepare for the PTE. Use these tips and strategies to get the best score you can on the PTE Academic. They will help you stay on the right track and not get sidetracked by the large number of learning patterns and tools.
Summary:
Read as much as possible on a variety of topics.
Practice reading quickly while still understanding what you read.
Improve your spelling and grammar.
Skim and scan to save time and focus on important information.
Read the questions multiple times and highlight key words.
Use the elimination method to rule out wrong answers.
Take practice tests to improve your reading skills and test-taking abilities.
Check out our Web Story at https://freeptetest.com/web-stories/tips-and-strategies-for-people-taking-their-first-pte-reading-test-2/