What is the PTE exam fee?: The Pearson Language test is the full form of PTE. For this, you also need to have the necessary language skills. It is the first-of-its-kind computer-based English language test.
It measures your English speaking, reading, writing, and listening skills to see how good you are. PTE results get published within 48 hours. It was first launched in 2009. Students from 180 nationalities are taking this test.
The exam registration fee has to be paid by all PTE Academic test takers. Indian students have to pay a fee of Rs. 13,300/-. The students should book their slot at least 14 days in advance.
The test assesses a candidate's English skills under four sections which include reading, writing, speaking, and listening. It is suitable for students seeking admission to graduate programs in countries where English is the first language and their native language also.
PTE test is accepted in countries like the UK, Australia, New Zealand, Canada, The USA, Ireland, Germany, and Singapore. The candidates will receive their PTE results within just 5 days of the exams. PTE Academic is highly accepted by universities and colleges, including the Ivy Leagues like Harvard, Columbia, etc. Here are the details about PTE Test for Scholarships.
You should score 10-90 points in each section. You can book the test 48 hours in advance and attempt it innumerable times. You can reschedule as needed. There are other charges which may or may not apply to every candidate, which are known as optional fees. These include late fees, exam rescheduling, etc.
If you do it late registration, you have to pay the late registration fees, which are known as late registration fees. You can change your exam dates.
You have to pay an additional 50% of the original test fee if you reschedule your appointment between 7-14 days before the test. This is called rescheduling fees.
If you choose not to appear for your PTE Academic exam, you may cancel it. You need to place the cancellation request. You need to cancel at least 14 days before your test.
You will be eligible for a refund of 50% of your PTE exam cost if you choose to cancel your appointment in the 7-14 days before the exam. This is called the cancellation fee.
A 25% extra fee needs to be incurred for rescheduling the PTE test date before seven days. Within the same week of the previously booked test date, the full registration fee needs to be incurred to reschedule the PTE test date. Candidates must pay an additional late booking fee of almost INR 695 for registration.
Candidates can avail PTE voucher code. The code can be obtained from the official PTE website as well. Fees can be paid through visa, Master-card, debit cards, visa, and Master cards. This exam is conducted throughout the year. Candidates should focus on upcoming dates.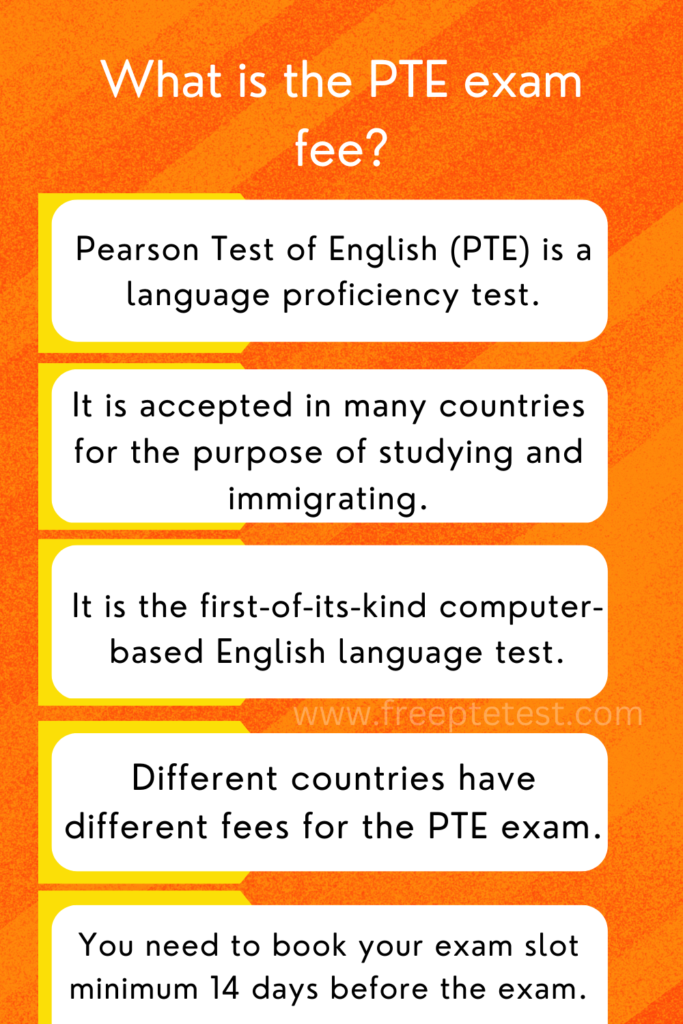 Eligibility:
The nationality of the candidate- The PTE Academic exam is open to students of all races. The exam may only be taken by candidates who have valid, current, and legible identity proof and other required documents.
The age of the candidate- Students over the age of 16 years can take the exam. The PTE website has not mentioned any specific upper-age limit. Candidates in the 16-18 years age group should kindly fill this out, it is a must for this age group. The students should submit a parental consent form.
Age limit- The College Board has not set any specific lower or upper limit for students. The high school education should have been completed.
The educational qualifications- There are no such eligibility criteria for educational qualifications. One should be fluent in the English language.
Candidates need to know about the PTE exam pattern.  The main 4 skills of English include PTE Reading, PTE Listening, PTE Speaking, and PTE writing.
PTE preparation tips:
Understand the test format and scoring pattern, start with creating a PTE self-study plan, and read the questions before reading the passage. Practice this during the PTE online test, intonation should be worked on when studying PTE English, make the proper movement of your mouth during PTE speaking, during PTE writing, practice focusing on complex and compound sentences, and map your essay before starting with the PTE essay.
Manage time during the PTE reading section, expert PTE helper asks candidates to avoid typos while writing. Practice from the PTE preparation app, and practice listening to native English accents during PTE listening practice, most language academy PTE focuses on time management when answering questions, PTE academic preparation should be done with diligence, a study from online courses like language PTE, PTE tutorials, Language academy PTE, and more, candidates are suggested to not spend more than 2 minutes in the PTE reading section, work on maintaining time, focusing on the topics, and having proper knowledge of English, if you encounter a tough question, remind yourself of the time when you struggled and got a correct answer, top English PTE experts suggest candidates practice essays in Microsoft word by turning off the auto-correct option.
Conclusion:
It is one of the most chosen tests out there for immigration. It is not that hard. Just be focused and work hard as much as you can and you will clear it. Just do all the preparations and follow all the points that are written above.