How to Prepare for PTE-A Exam in 30 Days: It might sound like an impossible challenge to prepare for the PTE-A exam in just thirty days, but with the appropriate tactics, it is definitely possible to earn a good score on the exam.
You only have one month to prepare for the PTE-A exam, and we will present you with a complete guide to help you do so here in this post.
Understanding the Exam Structure
Understanding the layout of the PTE-A exam should be the first thing you do to prepare for the test. The test is divided into four parts: speaking and writing, reading, listening, and a supplementary piece that is not scored but tests the test-taker's ability to adjust to the computer-based testing environment.
Because the format and length of each section are distinct, you must become familiar with the examination's overall structure before you begin studying for it.
Have a Diagnostic Exam on Yourself
Before you begin your preparations, it is a good idea to evaluate your present level of English ability by taking a diagnostic test first. This will provide you with a clear picture of where you stand.
You may determine your strengths and limitations with the help of a diagnostic exam, and then you can direct your attention to the areas in which you need to make improvements.
Make a plan for your studies.
It is crucial to create a study plan to guarantee that you will cover all of the necessary material and have sufficient time to practice.
You can begin by breaking the four parts of the examination into daily assignments, devoting your attention to a single part each day, and reserving sufficient time for mock exams.
Concentrate on your Vocabulary
Concentrate on Increasing Your Vocabulary The PTE-A exam requires significantly increasing your vocabulary. Make it a goal to learn new words each day and incorporate them into your regular speech wherever possible. To improve your vocabulary, you should utilize online resources, such as vocabulary lists and flashcards.
Practice your speaking and writing
Perform Well on the Speaking and Writing Sections of the PTE-A Exam The speaking and writing section requires test-takers to perform well on both the speaking and writing sections. You may also check available Speaking and Writing Samples for improvement.
Regular practice in both speaking and writing will help you develop the abilities necessary to succeed in this part. You should record yourself speaking, then listen to the recording to figure out what parts of your delivery could use some work.
Have a friend or an instructor read over your writing and give you input on how to improve it.
Enhance Your Capabilities as a Reader.
The reading portion of the PTE-A test evaluates a candidate's capacity to comprehend and evaluate the materials they are exposed to. If you want to improve your reading skills, read as much as you can, concentrating on books and articles from the academic world.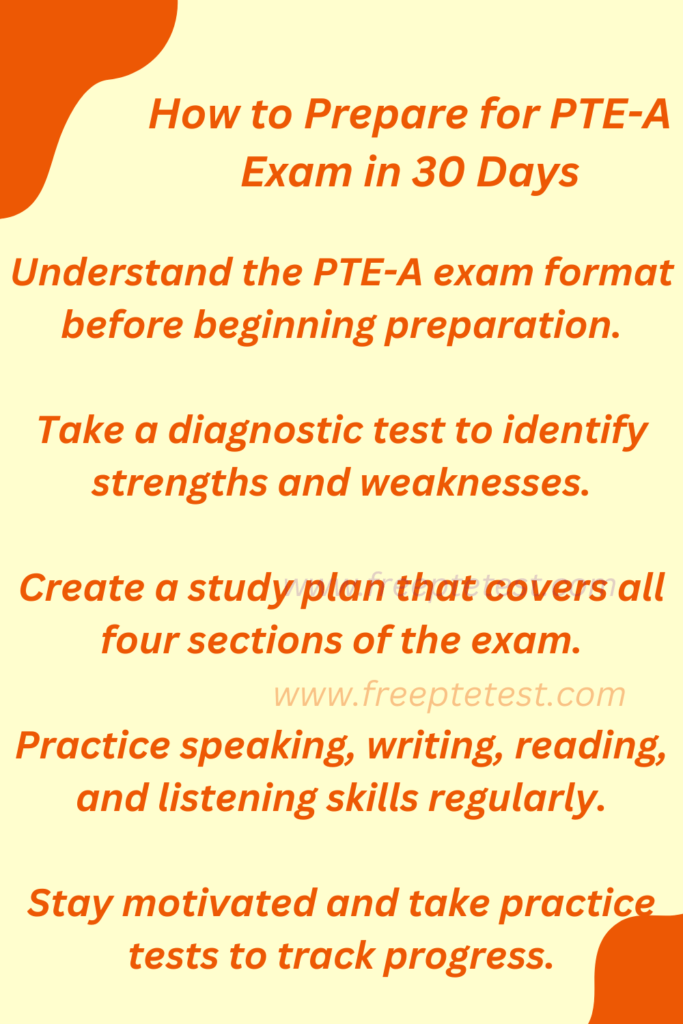 Take advantage of the internet resources that are available to you, such as reading comprehension exercises and practice examinations.
Improve Your Capacity to Listen to Others
Participants in the PTE-A exam are required to listen to audio recordings and answer questions based on the recordings' content during the exam's listening phase.
It is recommended that you listen to English podcasts, radio shows, and news broadcasts in order to develop your listening abilities. Utilize the online resources available to you, such as exercises to improve your listening comprehension and practice exams.
Conduct Mock Examinations.
Practising with real-life scenarios is an important component of being ready for the PTE-A exam. You will be better able to recognize your flaws and track your improvement if you take practice exams.
Be sure to take practice exams in a timed environment similar to the real examination in order to accurately recreate the atmosphere of the real test.
Maintain Your Drive
The PTE-A exam is in thirty days, and proper preparation will demand self-discipline and commitment. Maintaining your motivation during the process of getting ready is absolutely necessary.
Find someone to study with or hire a tutor to keep you accountable, and reward yourself whenever you reach a milestone in your studies.
In short, in order to successfully prepare for the PTE-A exam in a period of 30 days, one has to have a well-planned study regimen, continuous practice, and dedication.
You will be able to improve your English skills and get a good result on the PTE-A examination if you pay attention to the advice in this article and put it into practice.
Summary:
Understand the PTE-A exam format before beginning preparation.
Take a diagnostic test to identify strengths and weaknesses.
Create a study plan that covers all four sections of the exam.
Practice speaking, writing, reading, and listening skills regularly.
Stay motivated and take practice tests to track progress.
Check out our Web Story at https://freeptetest.com/web-stories/how-to-prepare-for-pte-a-exam-in-30-days/