Australia is a country that is composed of the continent as well as many of the islands and Australia is also the only continent that is governed as a single country. Due to its location in the southern hemisphere, the seasons in Australia are opposite to what you may be used to. You can enjoy nice weather all year round.
Australia has a high quality of life. The most thriving economic sectors are agriculture, finance, tourism, education etc. Some of Australia's top landmarks are Sydney Opera House, Sydney Harbor Bridge, Art Gallery of New South Wales, Kakadu National Park, the Great Barrier Reef, Kangaroo Island etc to allow women to vote Australia was the second country in the world.
PTE was developed more than 10 years ago. It is the most secure, reliable, and accurate test of English. PTE is today used by more than 3,000 colleges, institutions and professional bodies that trust PTE to verify their students' English skills.
The Australian, New Zealand, and UK governments accept PTE as proof of English for all visa tiers and PTE feels very simple to prepare and in PTE the test day is less stressful. PTE is a more accurate measure of language ability  without an examiner's bias.
Most test takers get their results within 48 hours, and it is a two-hour computer-based exam and has a friendly test environment. PTE Academic is there to help If you plan to study internationally or migrate abroad. PTE is fast, secure, and powered by AI to reduce human bias.
It is a great choice for anyone who needs to demonstrate their language skills. You can register for a PTE account. There is another way also in which you can book online or call Pearson on 1800 729 282.
PTE Academic is approved by the Australian government for visa applications and it is accepted by all Australian universities. The fee for the PTE Test has been raised from $375.00 to $385.00. The tests booked prior to 3 January 2022, regardless of the test date will be charged $375.00.
The PTE academics English test is accepted by Australia's department of home affairs and it is also accepted by Immigration New Zealand (INZ) for all visa applications you can apply for universities and colleges in Australia.
Why should we choose a computer-based test like PTE:
PTE score your test rapidly, most test takers receive their results within 48 hours and you don't have to speak to an examiner or write your answers by hand.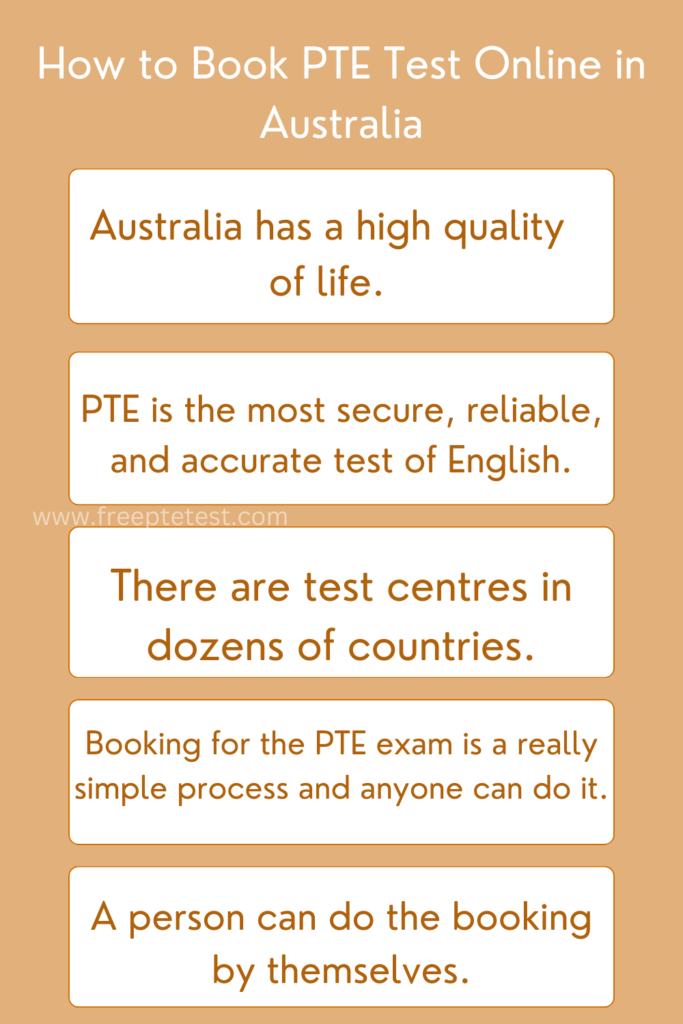 Book your PTE Academic exam:
There are test centres in dozens of countries around the world and exams can be scheduled up to 24 hours in advance. For booking, you have to go to Pearson PTE.com, select 'check availability in the homepage banner, or 'book a test' in the top left corner of our site navigation from anywhere on the website, click 'check test availability & book' under the PTE academics heading.
You'll be able to search for a test centre and find an appointment then select the test centre closest to you and click next, select the date and time of your exam. You'll be asked to create your PTE account, and complete your profile.
You should also take a moment to read our ID policy, which covers what forms of ID are acceptable to bring with you to the test, then review your booking details and submit your order.
You'll get an email notification with your results typically within 48 hours, once you've sat the exam. You'll also be able to view your score report in your my PTE account.
You may need to share your PTE Academic results with your chosen institutions and find the appointment connected to the score you want to send to your PTE account and you can share your score report code with your chosen institutions.
Conclusion:
Australia has a high quality of life.
PTE is the most secure, reliable, and accurate test of English.
There are test centres in dozens of countries.
Booking for the PTE exam is a really simple process and anyone can do it.
A person can do the booking by themselves.
Check out our Web Story at https://freeptetest.com/web-stories/how-to-book-pte-test-online-in-australia/