Is PTE accepted for Immigration?: Pearson PTE is a language proficiency test accepted by many countries for study and immigration purposes. This test mainly assesses your skills in the English language. To assess the skills of a person, this test uses four methods or modules: speaking, writing, listening and speaking.
Pearson Test of English language (PTE) has two main types:
PTE Academic: This PTE test, as its name suggests, is for academic purposes. If you want to go to a foreign country for your higher studies, then you can take PTE academic test as proof of language proficiency. But you need confirmation from the respective University or college whether or not they accept the PTE exam as a language score proof.
PTE General: This PTE test is for those who want language proficiency proof for immigration or work applications. This test is slightly different from the PTE Academic test as this test needs not to be academically focused. This test is mainly used for general and practical purposes to check if you can blend with other people without facing language barriers.
PTE test is a computer-based test. The test is completed on the computer and scored by the computer with Pearson's automated scoring technology. This test takes almost two hours to complete.
PTE also offers PTE academic online, which is the same as the PTE academic test. The difference is that you can take the test from the comfort of your own space, either from home or the office.
This test is suitable for mainly those who do not have access to a PTE test centre in their country or region. Or for those who are unable to visit the PTE test centre for specific reasons.
Also, those who are not comfortable with the examiner at the time of the test can take this online test. The content and format of the online test are the same as the PTE Academic test.
The main purpose of the PTE test is to study Immigration applications. In the case of study visa applications, the PTE Academic is accepted by almost all major universities in many countries.
For Immigration, this is accepted by Australia and New Zealand and now Canada has also announced to acceptance of PTE for Immigration applications.
PTE for Australian Immigration: Department of Home Affairs (DHA), Australia, accepts the PTE Academic English test as proof of language proficiency.
PTE Academic English test results are used for Permanent Residency, Employer-Sponsored/Work Visas, and Student Visa applications.
Many Australian professional registration bodies and skills assessment authorities accept PTE Academic test scores. These include:
Australian Health Practitioner Regulation Agency (AHPRA)
Australian Nursing and Midwifery Council (ANMAC)
Certified Practicing Accountants Australia (CPA Australia)
Chartered Accountants Australia and New Zealand
Australian Computer Society (ACS)
Engineers Australia
For Australian immigration, there are three different visa categories. For these pathways, a minimum PTE score of 50 is required. These are based on the point-based system. The visa categories are:
Visa 189
Visa 190
Visa 489
Many people prefer to have PTE scores for Language proficiency over other language proficiency tests. Along with language proficiency test scores, you are required to have academic qualifications, work experience and other required criteria.
You can also use PTE scores for work visas to prove your language proficiency. A minimum score of 65 is required for most skilled visas from 2021.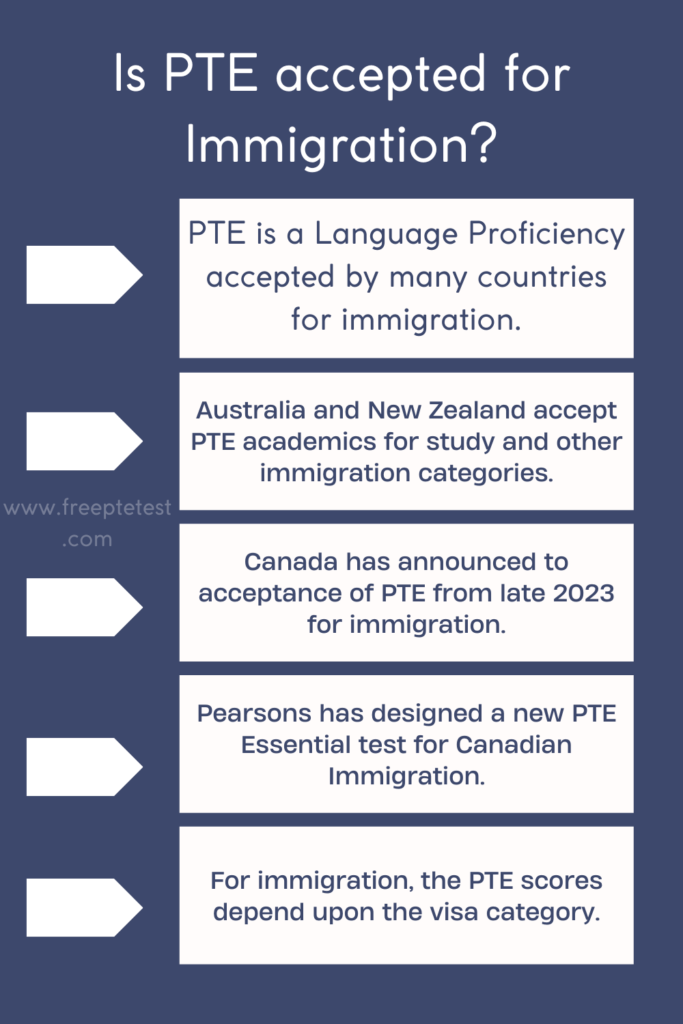 It also depends on the job-specific requirements.
PTE for New Zealand Immigration: Immigration New Zealand accepts PTE for the Language proficiency test in various immigration applications like study visa applications, permanent residency applications, and work visa applications.
Applicants can demonstrate their English language proficiency with PTE scores to meet the language proficiency scores.
The Language proficiency score requirements depend upon the type of visa and category you are applying under.
For different visa categories, the language proficiency score ranges between 36-58. However, some visa categories have higher requirements for language scores. So it is better to check all the requirements from the official website of INZ to get a clear idea of language scores and other requirements.
PTE for Canada Immigration: Immigrations, Refugees, and Citizenship Canada (IRCC) accepts IELTS and CELPIP for immigration purposes. PTE is accepted for study visas but not for residency or work visas.
But IRCC has announced that in late 2023, PTE scores will be accepted as proof of language proficiency by Canadian immigration. For Candian Immigration, Pearson has designed PTE essentials.
PTE Essentials is designed to meet the language proficiency requirements for Canadian immigration set by IRCC, as IRCC has different language requirements for different visa categories.
Applicants are also required to meet the CLB requirements with their language test score in the Express Entry pool to be eligible to get the Invitation To Apply.
In other words, we can say that PTE will soon be eligible for Canadian immigration.
Summary:
PTE is a Language Proficiency accepted by many countries for immigration.
Australia and New Zealand accept PTE academics for study and other immigration categories.
Canada has announced to acceptance of PTE from late 2023 for immigration.
Pearsons has designed a new PTE Essential test for Canadian Immigration.
For immigration, the PTE scores depend upon the visa category.